What is Whitelisting, and How do you whitelist an email it in Gmail?
When you receive emails, there are certain emails you want to make sure you don't miss seeing. You don't want these emails landing in a spam filter or getting overlooked.  Each email system settings work differently.
Whatever email system you're using, sometimes the system itself decides what emails are important and what emails are not.
If you want to stay in control, and make sure you are never missing an important email, you're going to want to learn how to whitelist certain emails.
If you are using Gmail, in less than 30 seconds, you can whitelist certain emails you value.
Here's a video (less than 1 minute) that shows you how to do it!  https://vimeo.com/669655437/ea2f28b8f3
If you prefer written directions, here's a visual:
Go to your Gmail Account and Click on the settings gear
You'll likely need to click on See All Settings (until you see the page below)
Click on Filters and Blocked-Addresses
Click on create a new filter
Add the email you want to whitelist in the "From" field
Then click on Create Filter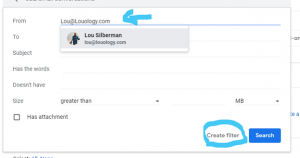 Then choose Never send it to Spam, and Click Create Filter and you're done!